ABOUT ME and the Services I Offer
Professional Photography, Photo Restoration, and Photography Lessons
A little bit about me. Photography is a huge hobby of mine. I have been doing it for years but never really took it as a serious hobby until a few years ago and it has turned not only into my biggest hobby but a profession.
I specialize in shooting film. I love the look, I love the feel and I am more comfortable shooting film than I am with a digital camera. I don't dislike digital cameras. They are just not my style of photography. Ken Rockwell put it best in his article entitled "Why We Love Film". He said: "Film is the immortal medium of the masters. Digital is the profit center for large foreign corporations." I love not only taking amazing photographs but I also love to restore old photos! I did the opposite of most people, I went from shooting digital to shooting film almost exclusively. I offer a high quality and low cost option for all of your photographic needs. My rates are very reasonable and I guarantee you will get more bang for your money than anywhere else. I provide a wide array of photographic services including portraits, photo restoration, photography lessons and even my selling a wide array of my work in print form. I also shoot for a magazine called Poncho Perfection Magazine which is the only all Pontiac Magazine. It can be found in many Books a Million locations or via our website: www.ponchoperfection.com
You can find my work published in Poncho Perfection Magazine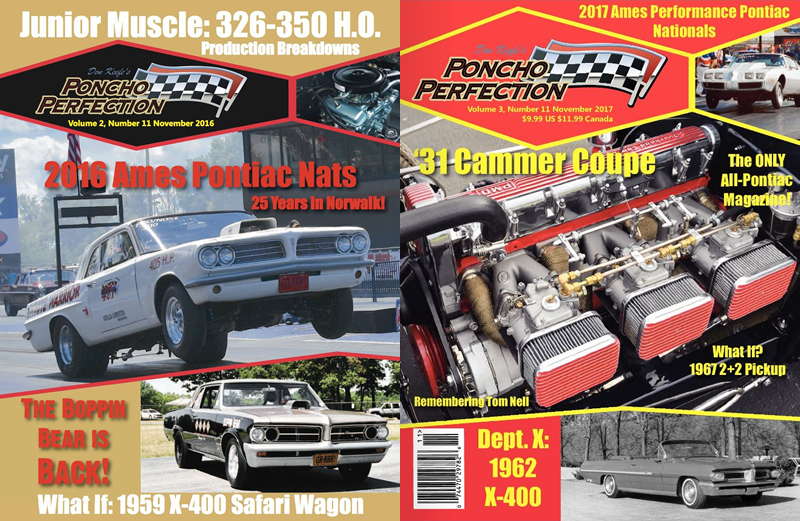 PROFESSIONAL PORTRAITS
I have a lens for every situation and the capability to adapt to pretty much any situation. I can do portraits of any kind. Whether it's for family pictures, senior pictures, weddings, general portraits of kids, couples, engagement photos, pets, classic cars or anything else. I can take some really great looking and dynamic photos for you. Best of all I will NOT hold your pictures hostage. You keep them and get to print them as you like. I do get limited use of them to promote my business but essentially they are yours. I will not hold you hostage like some of these photo studios will and force you to buy prints of your own photos from them at some insane price.
PHOTO RESTORATION
I can scan, restore and digitize your old negatives and slides in high resolution and restore them to look as amazing as they did when they were first taken. I charge by the individual scan or for multiple scans and edits I charge a package fee if you have more than 24 pictures to be scanned and edited. I own two very high quality and high resolution scanners. I can scan 35mm slides, 35mm negatives, or medium format negatives.
PRINTS OF MY WORK
I sell individual and framed prints of my landscape nature photos, animal photos, cityscapes, concert photos, classic car photos and street scenes. Pricing depends on the size of the print and/or the type of frame you want for it. With film, there aren't really any limitations as to how big I can print something. I can scan an image from a negative to have the equivalent resolution of 150 megapixels. Most high end cameras are anywhere from 50 megapixels to 80 megapixels. (another reason I shoot film).
PHOTOGRAPHY LESSONS
I provide one on one instruction into the basics of photography and can help you get the most out of your camera. I can give you tips and tricks on composition and teach you the basics of exposure. I have a lot of experience and can teach people anywhere from beginners to advanced photographers. I even get some professional photographers who has never shot on a film camera asking me to teach them how to use one, especially an older SLR or Large Format Camera. Pricing is based on what the individual needs and the time needed.
For any questions feel free to email me tony@twebster.org
My contact info: